The professionals at Michigan Staffing and Aspen Search do more than find "temporary" solutions.
Our clients will tell you that we help them solve business problems – and the most critical challenges a business person faces involves people. When your staff includes people who lack training or motivation, or who are not a good fit with your culture, you face the germ of other issues: poor morale, low productivity, low quality, and more customer complaints.
It is critical to find the right people and connect them to the right opportunities.
We often work with businesses with niche requirements. Call Center managers know this very well. Often the most important experience a customer has with a business is a phone call. Perhaps it is the first contact, or often it is driven by some problems that needs to be solved. If the call center staff Is not trained, knowledgeable, patient, friendly, articulate, and solutions-driven, the chances of the call turning into a bad experience are great.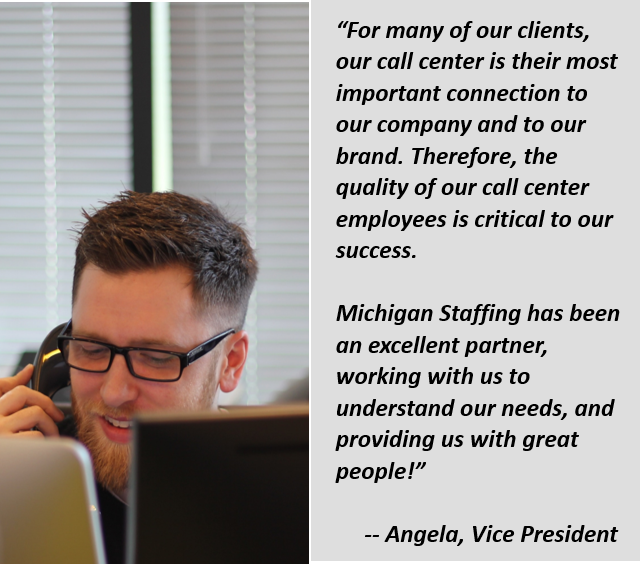 We work hard to find and place people who can succeed at being the voice of your company. We know that all of your creativity, investment, leadership, and innovation can be undermined by a bad customer service experience. The "I've just talked to the customer disservice representative" joke is not funny when it is your company and your reputation at stake.
Would you like to know more about how we recruit, prepare, and retain great people?
Please contact me directly to learn more about how we can help you succeed.