I recently had the opportunity to speak with Paul W. Smith on WJR Radio in Detroit. During the COVID-19 Pandemic, WJR is interviewing area businesses like ours and helping promote the business community in a meaningful way.
The interview was a nice opportunity for me to share how proud I am of Michigan Staffing and Aspen Search Group. During a time of great challenge for workers and employers, I think it is important for all of us to remember what we have accomplished:
We were able to provide over 250 employees to essential businesses in the first 2 months of the health crisis

We provided an additional 250 employees placed at clients since May

We are a family-owned and woman-owned and certified staffing company
We help people find employment opportunities as light industrial, administrative clerical, and technical professional workers
Our client companies include businesses of all sizes, and we have been helping them with one of their most important activities – finding great people — since 1989
The people we place range from single individuals to entire operations involving hundreds of employees
In addition, we talked about how we all move forward together.
As a staffing company, we problem solve and collaborate with our customers to navigate the landscape. We work with customers to find solutions that help their businesses thrive.  Many things are changing in our industry. For example, we've stayed open during the pandemic by keeping our brick and mortar offices open and also moving to a virtual recruiting process.
As someone who comes from a family of entrepreneurs, I look forward to leaning into our thirty years of success as we move into the future.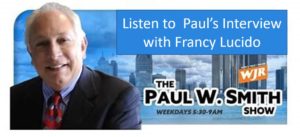 You can listen to the entire interview by clicking on the image.
If you have any questions at all regarding our assistance to you or our employees, please do not hesitate to contact me personally at (586) 506-7524.
Wishing you and your entire company good health.
Francy Lucido