James Clear's Atomic Habits is an excellent guide for anybody looking for a path to more success. In addition to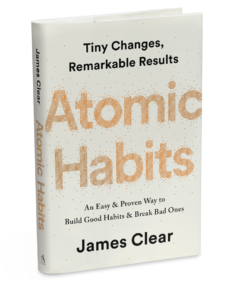 its value for individuals, I believe it has more power when the principles are applied to any organization.
Simply put, Atomic Habits is about breaking bad habits and adopting good ones. That deceptively simple description might make you miss a great insight: those small changes, over time, can result in big, positive changes that mean better results for you and your organization.
Recognize Good Habits
Clear identifies four steps that we go through in order to recognize and heighten our awareness of a habit:
Cue. This is the information that prompts us to repeat a habit. Perhaps your habit is a daily workout at the same time every morning and the cue is a daily weigh-in or reminder on your calendar.
Craving. This is the positive desire to change. Maybe it is a goal like running a mile in 6 minutes instead of 9.
Response. This is the action that you take. It is the five-mile run or the 40 laps in the pool. It is something that you do on a regular basis due to the same cue and craving.
The reward is the satisfaction at achieving your goal – it might even be the progress toward the goal – small rewards toward bigger ones can help keep you motivated.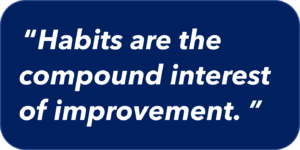 Reinforce Good Habits
Reinforcement helps ensure that the good habits are not shirt-lived.  Another set of four illustrates Clear's approach to reinforcement:
Keep the workout clothes out – don't make the habit a secret.
Enjoy the activity – consider swimming or taking the time to run daily.
Choose a habit that you can do – nothing ruins a new good habit like trying to do something that is just too hard.
Enjoy the activity itself! Get nice earbuds and listen to your favorite music while running. Look around, enjoy the scenery and see how great it can feel to get in shape.
These can apply to any new habit: sleeping better, reading more, practicing daily yoga, or taking up a musical instrument and practicing every evening.
 Fight and Discourage Bad Habits
Often an old habit has to give way to a new one and, hopefully, that former unhealthy habit gets less attention because you are able to give it less time.
To really discourage bad habits, make them unattractive. Let's say you want to limit TV watching to make time for guitar practice. Make a rule for yourself: if you watch more than 30 minutes of TV in a day, you need to increase the following day's run by 15 minutes. Following your own rules – in the long run – reinforces the new habits that you are now focused on, and can bring more satisfaction as you see yourself pushing old, bad habits away.
Create a System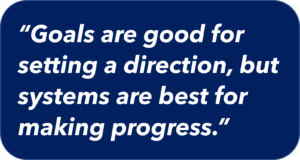 Clear says that the real key to all of this is to make it part of a system. This makes sense because of the new habit is not part of the way you operate overall, then it never really becomes a habit, does it? Your goal is not to make the new habit an activity that falls outside of your routine.
According to Atomic Habits, you should use some habit tracker.
Here's an example: Duo Lingo, the mobile language system, has a habit tracker built in. Want to learn Japanese and are ready to commit to a daily exercise? The program itself tracks your learning "streak" – someone who has not missed a lesson in 1000 days gets lots of encouragement from the program as well as kudos from other learners on social media.
The habit is tracked, encouraged, and applauded!
Apply the System to Your Business
What if you could apply this thinking to your organization? You could change workplace behavior, collectively see better business practices among workers, and reap the rewards of fewer distractions and wasted time, with more effort focused where it needs to be.
Start: Focus on Your Work Environment
Many leaders act like big company-wide programs with multi-year timelines will bring the results that they hope for. But what if you could see small changes and improvements every day?
The idea is to work for small, constant wins. And the change is in the system, not in the people.  That is because people work as their environment directs them. You might have great people, but are they burdened by policies, bureaucracy, or poor culture?  Most people are, and if leaders can fix that, then they won't find the success that they owe their organizations.
Setting goals is not hard – but, creating environments where goals can be achieved? – that's your best starting point.
If you'd like to know more about how we can help you find the people who will contribute to your success, please contact me directly.
Francy